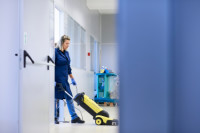 Do you need housekeeping services to keep your home looking its best without the hassle of squeezing extra chores into your busy routine? Will professional office cleaning help your workspace attract new customers and be a more pleasant environment for your employees? It's time to call Spruce It Up Cleaning Services, LLC. We're the Minneapolis area's choice for skilled commercial and residential cleaning services. We offer quality workmanship at reasonable rates, and we care about giving you a fast turnaround so you aren't inconvenienced during the cleaning process. From biweekly house cleaning services to semi-annual pressure washing services and beyond, we're ready to meet all of your cleaning needs. Call today to learn more! 
Housekeeping Services
Office Cleaning Services
Deck Cleaning and Staining
Bonded & Insured Pros
Free Estimates Available

We're based in Anoka, and our service area includes much of the surrounding region. Call us for interior or exterior cleaning at your home or business in Minneapolis, Plymouth, Maple Grove, Brooklyn Park, Coon Rapids, Andover, Blaine, Minnetonka, Edina, or just about anywhere else in the local area. We'll schedule the earliest available appointment that works for you. We can send a member of our team to you for house cleaning services every other week, set you up with evening office cleaning services on a more frequent basis, or do a one-time move-in or move-out cleaning. We also offer pressure washing services, gutters cleaning, deck cleaning, and other specialized services on an as-needed basis. We're standing by to meet your needs when it comes to keeping your property clean.
Spruce It Up Cleaning Services is fully bonded and insured for all of the commercial and residential cleaning services we offer. We've been in the business since 2003, and we've served countless homes and businesses in that time. We have the knowledge and skill it takes to give you a beautiful and sanitary space. Trust us for high-caliber work, no matter how large or small your job. We're committed to your satisfaction, so we'll go above and beyond to get the job done right.
Call or e-mail Spruce It Up Cleaning Services today to learn more about the interior and exterior cleaning options we have available. We'll be happy to give you a free cost estimate. When it comes to home and office cleaning, we've got you covered. We look forward to working with you!