Gutter Cleaning Service
Your building's rain gutters have a big job to do. They have to collect water and direct it away from your building, so you can avoid the water damage that can result from standing water on your roof and next to your walls and foundation. Help your gutters perform their best by booking gutter cleaning services regularly. In and around Minneapolis, your choice for residential and commercial guttering cleaning is Spruce It Up Cleaning Services, LLC. Since 2003, we've helped area home- and business owners maintain their properties, and we want to be your gutter cleaning company of choice in the local area. Call or e-mail us today to schedule the roof gutter cleaning services you need, and to get a free cost estimate!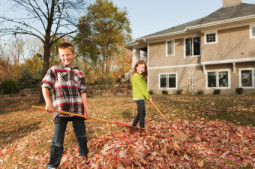 If your gutters are clogged, they can't effectively redirect water. This can result in a host of issues, including:
Leaky basements
Foundation erosion and cracking
Roof damage
Peeling paint
Rotting wood
Mold growth
Mosquito and other pest infestations
Landscape erosion
Gutter cleaning services play a big role in stopping these problems in their tracks. Spruce It Up Cleaning Services will be able to dislodge any leaves, twigs, and other debris that are keeping your gutters from channeling water properly. We use a power washer for gutters cleaning, which means spraying water and cleaning fluid into the gutter to loosen and rinse away debris. When we're finished, you can be sure your gutters will be able to do their job once more.
Bonded & Insured for Guttering Cleaning
Spruce It Up Cleaning Services is a fully bonded and insured gutter cleaning company. On top of these qualifications, we have 11 years of experience with gutter cleaning systems. You can count on us to put quality workmanship first on every job. We also provide fast turnarounds for gutters cleaning, and we strive to keep our rates reasonable. We want to be your only choice for roof gutter cleaning in Minneapolis.
If you own a one- or two-story building in the local area and need to discuss gutter cleaning systems, call or e-mail Spruce It Up Cleaning Services today! We'll be happy to tell you more about the various cleaning services we offer, including residential and commercial gutter cleaning. Trust your gutters to our knowledgeable and skilled professionals, and look forward to great results. 
Gutter contractors
rain gutter cleaning service